Why & What is Turbo Ventilator
Wind wheel industries is the trusted manufacturer of wind driven turbo air ventilators which are widely demanded in the industries where emitance of excessive heat can damage roof sheathing . Our wind ventilator helps ventilate hot emission and replace it with fresh air from outside thereby preserving the life of the roof.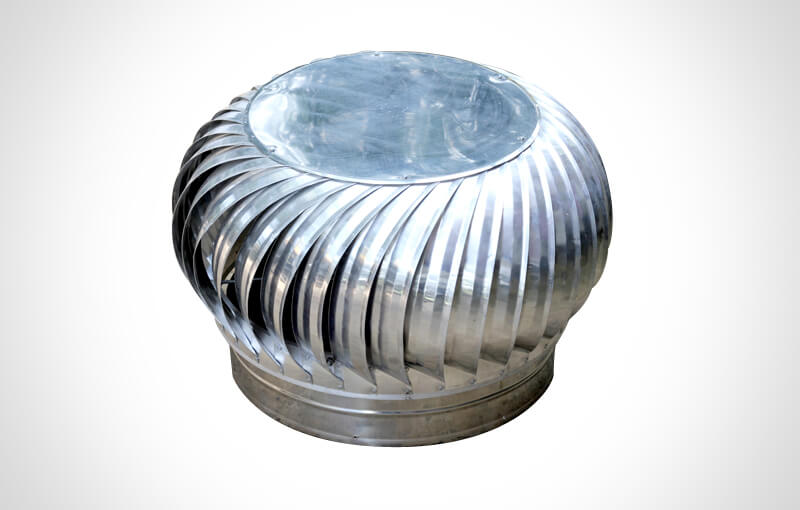 Wind wheel – The Green Way
Turbo ventilator works without electricity. It is run on wind power and it works round the clock throughout the year. This system functions and performs with the unlimited energy source namely wind energy; thus saving power for the running cost of exhaust fans, maintenance etc. Wind turbo ventilator doesn't require operating time. It continuously rotates in the wind and removes moisture laden air in winter and hot air in summer.
Proven technology across the world
We manufacture turbo air ventilator using graded materials that are very much durable and ensures a longer life as well. The design and fabrication part of this turbo roof ventilator is meticulously done by our outstanding professionals and we strive single mindedly in delivering customized products to the complete satisfaction of the clients. This product is manufactured as per the approved Industrial standards and are tested on various parameters for ensuring high quality total environment friendliness. Customers can avail this matchless turbo ventilator of the wind wheel at cost effective price. Besides as you make use of these turbo ventilators you can save precious energy for the generations to come.
Paving way to the Future
Wind wheel industries provides a comfortable working atmosphere inside your factory taping wind power and as a result increases the net productivity. Our team consisting of highly experienced and target oriented professionals are fully focused on giving you the best.
You are Pleased to Contact Us
Best After Sales Offered
XIII/233, Varadiyam,
Avanur P. O, Thrissur
windwheelindustries@gmail.com
You are Pleased to Contact Us
Best After Sales Offered
XIII/233, Varadiyam,
Avanur P. O, Thrissur
windwheelindustries@gmail.com